More information
Somavedic Amber is our brand new model, 4x stronger than our bestseller the Vedic.
4x stronger than Vedic with all its benefits and features
5G effects mitigation protects the human body from its adverse effects
Creates a more coherent, natural environment
Activates self-healing process in the body and mind
If you want the ultimate EMF effects mitigation device, Amber is the solution.
What's included?
Shipping and returns
The ultimate power in frequency therapy
If you need to turn the volume up on EMF effects mitigation, Amber is the model for you. It is the uncompromising solution for that. Amber's performance is 4x stronger than the Vedic, and it's ideal for highly concentrated living areas like urban environments. It's great for optimizing office space, corporate buildings, hotels, and your home.
Structured water – a better kind of H2O
Somavedic Amber can create harmonized, structured water and help you increase your hydration capabilities. Just put your water next to the Somavedic, ideally not further than 20 cm (8 inches) away. The desired effect of 100% structured water occurs in 15-20 minutes. With Amber, you can enjoy spring-quality water with no compromise.
Proven positive effects
Somavedic has been tested throughout time by different independent laboratories and is proven to have positive results on our cells and bodies. Its effects lead to improved speed of cell regeneration, and it has positive effects on HRV, cardiovascular and nervous system. Most of all, people experience better sleep and have more energy during the day.
"I put the Somavedic devices all over my property. I have one over in my zen den, which is my biohacking meditation cottage in my backyard. I also keep one in my office near the WiFi router and use it to harmonize my water. When something restructures water it always gets my attention."
Luke Storey
"Loving my new Amber Somavedic device and as a professional biohacker, I love seeing the changes to my HRV from the first night I slept with it in my bedroom. Great device that really makes a difference in productivity and sleep quality."
Jill C. Carnahan, MD
"I've placed my Somavedic in my office, where the majority of my electronics reside, and noted a significant rise in my heart rate variability (HRV) during the times I spend in my office [...] I was skeptical, but won't argue with my consistently positive HRV results."
Ben Greenfield
Disclaimer
The information, statements and products provided on this website have not been evaluated by the Food and Drug Administration. It is not intended to diagnose, treat, cure, or prevent any disease.
Customer Reviews
96
reviewers would recommend this product
Write a Review
Ask a Question
Filter Reviews:
Amber
difference
sleep
water
somavedic
effects
benefits
results
husband
bedroom
01/30/2023
Allie

United States
I recommend this product
My hands don't hurt anymore!
I LOVE my Somavedic Amber. For many years now I have dealt with (to me) extreme EMF sensitivity. When I use a laptop computer keyboard, my hands would ache and burn and buzz, and same when I would use my cell phone for more than a few minutes. It actually got so bad that my right index finger would discolor when I would hold my cell phone. So, so crazy. And so painful! I got the Somavedic Amber because I just truly hoped it would make a difference. I've tried a lot of things for EMF neutralization, and they've helped to some extent, but didn't solve the problem. But seriously, this is real: I plugged in my Somavedic Amber and my hands stopped burning and buzzing. WHAT!! I always feel silly calling myself an "influencer," but professionally I am an influencer on the internet. My livelihood depends on me being on the internet. It's not like I can just not touch my laptop or not touch my phone. It is absolutely INCREDIBLE to me that after ten years of serious pain in my hands after every electronic interaction, now I can work on my computer for hours pain-free. Ah!! SO GRATEFUL!! I know that the Amber has an effective radius of 100 square feet, but when my husband decided we needed Google Fiber, and that the Google Fiber device thing would be in my living room, I decided to get a Harmony model to put next to the Google Fiber box, and I feel soooo much better about the whole situation. I went ahead and bought a Ruby as well, to put in my daughter's bedroom. Her bed backs to my husband's office, which is full of electronics. It was important to me that the light she was exposed to at night be red so that it wouldn't disturb her melatonin production and hormones, and so I was just so pleased that the Ruby fit the bill. It doubles as a nightlight for her and I feel like she does better with it in her room. She has ADHD and ODD and a lot of associated struggles with those things, but I feel like the extra EMF protection she is experiencing now is helpful to her. I know a lot of factors go into behavior, but her behavior has been improving over time. She is currently 9 years old. Anyway--LOVE my Somavedic and so, so glad I found it! Wow! Yay!! I believe if you have serious EMF sensitivity, you will also experience noticeable benefits.
01/15/2023
Elizabeth L.

United States
12/25/2022
Neha P.

United States
I recommend this product
Nice addition to our home
I am yet to find any physical change. Till then we love to drink structured water.
11/28/2022
Sher

United States
I recommend this product
Harmonize My Home
I heard of Somavedic Vedic months ago, but I was reluctant to invest in a unit due to the price. Then came my husband installing more automated electronics (more wifi signals within the home) as programming/automation is his hobby and I'm a bit sensitive to energy. I decided to splurge this year to take care of my well being and his too even though he doesn't feel any difference with more wifi in the home. I got the Amber. I love the color. It is 4 times stronger than Vedic, and I need something strong for my high-tech home. Since Amber has been plugged in a few days ago, I have been consciously hearing almost a constant buzzing sound and feeling light headed when I'm next to it. Don't know what is going on. Hence, minus 1 star. Will update my review after 60days. Some people say the unit light bothers them because it is too bright, but the Amber light is on the dim side for me. I almost don't notice its light on my kitchen countertop. If I relocate it to my bedroom I don't think this light will bother my sleep but I'd prefer it in the kitchen since I want it to restructure my water. I took a picture of it, but the camera amplifies the light brightness much more than actuality. Overall, I look forward to Amber harmonizing my home and family within the next 6-8 weeks as mentioned on the brochure. Any investments in well being and health is worth the money as long as it works.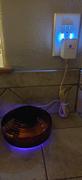 Thank you so much for your review, Sher! :-) The physical reactions are very individual and vary widely from no obvious to detoxications depending on the body's toxic load and the user's sensitivity. The light-headedness you describe might be a detox symptom when your body needs more time to get used to different frequencies. In this case, we recommend unplugging the device for a few days, and then you can try plugging it for a longer time gradually so you give your body enough time to adjust slowly. Please, note that the device still works for about 60% of its full potential when it is off. We also advise drinking lots of structured water to speed up the process and get rid of the toxins quicker. Your Somavedic should be plugged in only for the water structuring (15-20 minutes, the jug must be next to the device) and kept off for the rest of the time. I hope this helps, but please don't hesitate to ask us more questions.
09/05/2022
Abhishek G.

United States
I recommend this product
Can't tell …
We purchased the soma gold version and it's been running non stop for last couple of weeks in our house. We can't tell if it's doing anything though. We have all been having cold and allegro a recently. Sleep is same as before. Without any tangible measures it's hard to know or confirm of any health outcomes from use of this device.
Hi Abhishek, many thanks for taking the time and leaving us a review. The physical reactions are very individual and vary widely from no obvious to strong detoxications. What you're describing might be detox symptoms when you're body is cleansing and getting used to different frequencies. In case of a stronger reaction, we recommend unplugging the device for a few days (that way, your Somavedic still works at about 60% of its total capacity) so your body can slowly adjust. Drinking lots of structured water is another way to speed up the process so your body can get rid of toxins faster. Regarding the positive effects, they can be measured on bioresonance devices (we recommend the Bicom as it's been one of the best, if not the best, device in this field). The bioresonance devices measure body functions and the whole body's condition, EMF and other burdens, etc., quite precisely. Many of our customers also use HRV tracking devices to track their HRV. I hope this helps and if you have any questions or comments, please always feel free to contact us.
06/21/2022
JASON M.

United States
I recommend this product
Excellent!
The product is great! My only complaint is the color- the amber item pictured is much lighter than the actual piece I received. Had I known that, I would have ordered the amber sun model instead.
Hi Jason, many thanks for taking the time to leave us a review. It´s highly appreciated :-) We offer a 60-day money-back guarantee so if you´re not happy with the color and prefer getting the lighter version, Amber Sun instead, please reach out to our customer support team at support@somavedic.com and they will send you the instructions for return.
06/09/2022
Soofi

Bahrain
I recommend this product
More than Amber
A great device to have in a world bombarded by mobile phone radiation, wifi routers, boosters, 3/4/5G technologies and others. Sleep improved drastically, peace and harmony are around the environment field. Noticeable improvement of attitude in family members. Water structuring works, tastes smoother and better quality. Sinus opened up and eye dryness reduced completely. Thank you Somavedic.
06/06/2022
Patrice W.

United States
I recommend this product
IT WORKS!!
I originally purchased the medic green model and traded up to the amber. The first few days my husband and I felt tired, but after that we had lots of energy. My blood cancer numbers have improved. Can't explain why, but I love having this in my home
05/11/2022
Kristin N.

United States
I recommend this product
Amber love
Loved my amber somavedic device. Apparently I'm not as sensitive to it as some, because I slept with it for the best deep sleep I've had in more than a decade.
05/11/2022
Marie M.

United States
I recommend this product
Subtle but AMAZING
Everyone should have a Somavedic. I place my water and my orgonite pieces next to it for extra power around the house. The effects are subtle but amazing. You will know the difference when you get a Somavedic. I love them so much. I carry the Tiny with me to work which is infested with 5G and I feel like a superhero- untouchable!