More information
Tiny is designed to absorb some of your Somavedic device's energy to carry in your pocket outside of the home. The effect of the charged Tiny lasts about 8 hours from an overnight charge next to a Somavedic and covers a distance of a few feet in all directions. You need to have a Somavedic device to take advantage of the Tiny. We recommend charging it with Somavedic Harmony, Sky, Vedic, Ruby, Cobalt, Amber and Gold models.

How to use it: Keep it with you throughout the day in your pocket. In that case, it creates a protective field around your body up to a distance of about 20"! Place your Tiny next to the Somavedic device or set it on the top of it.

Material: hand pressed crystal glass.
Size: 1.3" x 0.7"
Stays charged for: 8hrs
What's included?
Shipping and returns
Disclaimer
The information, statements and products provided on this website have not been evaluated by the Food and Drug Administration. It is not intended to diagnose, treat, cure, or prevent any disease.
Customer Reviews
97
reviewers would recommend this product
Write a Review
Ask a Question
Filter Reviews:
pocket
somavedic
difference
home
Tiny
work
sleep
purse
pillow
energy
03/13/2023
Erica

United States
I recommend this product
Wonderful
I had been waiting for this! I highly recommend and it's such a wonderful addition to my Vedic.
02/28/2023
Laura L.

United States
Love it
I always bring this gem with me in my pocket. I love it
02/20/2023
Raena S.

United States
Perfect size
We send this with our son and he loves it! These products make a difference. If you're aware of you're energy and the energy around you, you'll know the difference.
01/30/2023
Tamara S.

United States
01/27/2023
Madhu b.

United States
I recommend this product
I absolutely Love my tiny Somavedic I take it with me every where
I am loving it so much. it feels like to get to take the good energy with me every where I go
01/27/2023
Nicholas K.

United States
I recommend this product
Tiny
I love having a Tiny. I work around a lot of electricity and electrical components and I feel good in that the tiny helps mitigate some of the emf effects on my body.
01/27/2023
Lilly W.

United States
I recommend this product
Feeling at ease
I've been feeling more grounded since plugging mine in. My mom even noticed no ringing in her ears
01/27/2023
Charlotte M.

United States
I recommend this product
Not what I expected
When I bought this mini I didn't know I had to own one of the expensive devices for this to work. I'm saving to get a bigger one. That said - even tho it doesn't work per se I do like holding it in my hand and keeping it near. It's a lovely piece.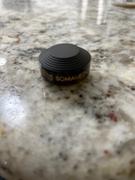 Hi Charlotte, we'd like you to know that we are incredibly grateful that you took the time to leave us a review. We are sorry to hear that you were not aware that you need a Somavedic device to be able to charge your Tiny, however we have it mentioned in the product description here: https://somavedic.com/products/somavedic-tiny Please, always feel free to reach out to us if you need anything. In cas
01/25/2023
Sharon E.

United States
I recommend this product
Tiny
My son has been taking the Tiny with him to school every day and he said he is not as tired during the day. He also sleeps really well at night with the Vedic in his room.
01/25/2023
Karen B.

United States